Last year we traveled to The Azores, islands in the Atlantic that are off the coast of Portugal. This is a family friendly guide to our stay there and will go over the places that we recommend. Since there were many COVID restrictions and we did not want to hop around on the islands, we stayed put in Sao Miguel for the entire trip but if we were able, it would have been fun to get to see some of the other islands as well. Sao Miguel is the largest of the nine islands and it is 40 miles long and 9 miles wide and is easily traveled. We spent 11 days here total because of the flight options but I think that 7 days here is sufficient! To view my other travel posts, head here!
The image above was taken in Nordeste –> Miradouro da Ponta do Sossego
The Azores, Portugal: A Family Friendly Guide
I will talk about where we decided to stay throughout the island and I will take you through what we did each day. As I mentioned earlier, we would have loved to discover more of the islands but with COVID, we stayed put on Sao Miguel. We stayed for a total of 11 days simply because flights were much cheaper to flight out on a Monday rather than a weekend. I think you could see the island really well in 7 days.
Weather: The weather is mostly the same year round. As I understand it, there is a few weeks where the weather isn't great but for the most part it's around 70 degrees. The weather changes QUICKLY so be prepared for rain every day. We just brought ponchos for everyone that were easily packable and their native shoes/waterproof hiking boots.
Language: Portuguese | Many also speak some English and we didn't find it hard to get around or ask questions. We did use google translate in a few instances.
Transport: We used a rental car and having traveled to other European countries, we are now experts at packing a European car with 6 people + luggage. Just be mindful if you have a big family like ours 😉
Useful websites:
SpotAzores | A website with cameras set up all over the island of the view points. Check these before heading out for your hike to make sure that you will be able to see! It gets cloudy very quickly around the island!
SeeAzores | A great website with all different activities and such offered on the islands
Day 1
Our first stop was where we stayed for 4 days – Furnas Lake Forest Living, a beautiful small eco friendly resort that is right next to Lake Furnas. We stayed in their Chesnut House which had 2 bedrooms, a pull out bed in the living room and 2 bathrooms. This resort was peaceful and situated in the forest with beautiful surrounding nature. You could make a reservation for breakfast each morning which was delicious. They have beautiful walking gardens, horses and other animals to visit, and there is a zip-line that is right next to the resort that brings you through the forest from above. There is a lot to do in this area since you can walk across the street to walk the entirety of the lake and even visit the hot springs. We were exhausted and didn't do much on day 1. This resort has a little duck that like to swim in the waters underneath the houses and our kids just followed him around for hours. They also have a lovely outdoor pool that our kids enjoyed!
Day 2
We hiked around Lake Furnas (walked over from our hotel), about 3 miles. We visited Calderias das Furnas (right along the lake) which is where they cook food underground in the natural hot sulfur springs. Many nearby restaurants come by around 11-12 to get their food to bring back to their restaurants. Right by the hot springs is Parque Grena which is an amazing naturally made park where you can see from different view points and waterfalls. There is a map that you get at the entrance to see where you want to hike. We did the highest hike that brought us to this overlook…..(kids loved it)
There are many things to do around Lake Furnas including the hot springs, park, a rec building where you can get sandwiches, coffee, etc. + lots of picnic areas.
In the evening we went to Praia do Fogo – Ribeira Quente which is a black sand beach and we had dinner at Costa Sul Pizza!
Day 3
On our third day, the weather was a bit rainy so we ended up heading to Terra Nostra Garden which was very close to where we were staying. Terra Nostra Gardens has been in the Furnas Valley for over 200 years. You can read more about this place here where they explain where it became so popular in the 18th century for it's healing properties. They have thermal water pools that are rich in iron and other minerals, believed to be highly beneficial for your skin. Be sure to wear a dark swimsuit since the iron will change the color of your suit! The thermal pools are between 95-104 degrees (volcanic water from the hot springs).
In the evening we went to A Quinta (Avenida Dr Manuel Arriaga, 9675-022 Furnas, Portugal) for dinner. Great atmosphere but terrible service. It looks like it may be temporarily closed now.
Day 4
We traveled out to Nordeste which was about 45 minutes and one of my favorite days of the trip. We started out walking around Miradouro da Ponta do Sossego which has beautiful gardens and a cliffwalk (we felt fine with all the kids as far as safety goes). We then parked and walked down to Farol do Arnel which is a lighthouse accessed by a steep path with sweeping views of the cliffs and sea. It opened to the public in 1876 and it is BEAUTIFUL. The kids all walked it except our littlest (1 year at the time) and our 4 year old at the time who I gave a piggy back on the way back up. From the lighthouse we continued down to the Boats Viewpoint which was built in the 16th century (!!) by order of King D. Joao III. There are a few very small houses built into the cliff on the way down which were really cool.
After all that walking, we went to Quinta Pimental where you can spend time milking cows, riding horses, getting a carriage ride around the town, seeing all the other farm animals and learning a bit about this Portuguese farm. Our kids loved this! Email them a few days/weeks before to make sure you get a time slot. This is cash only (many places are).
We ate at O Forno in Nordeste which was okay but it's in the center of town and it's gorgeous. We then stopped to get gelato at Queijaria Furnese in Furnas on the way home. Their passionfruit and strawberry are delicious.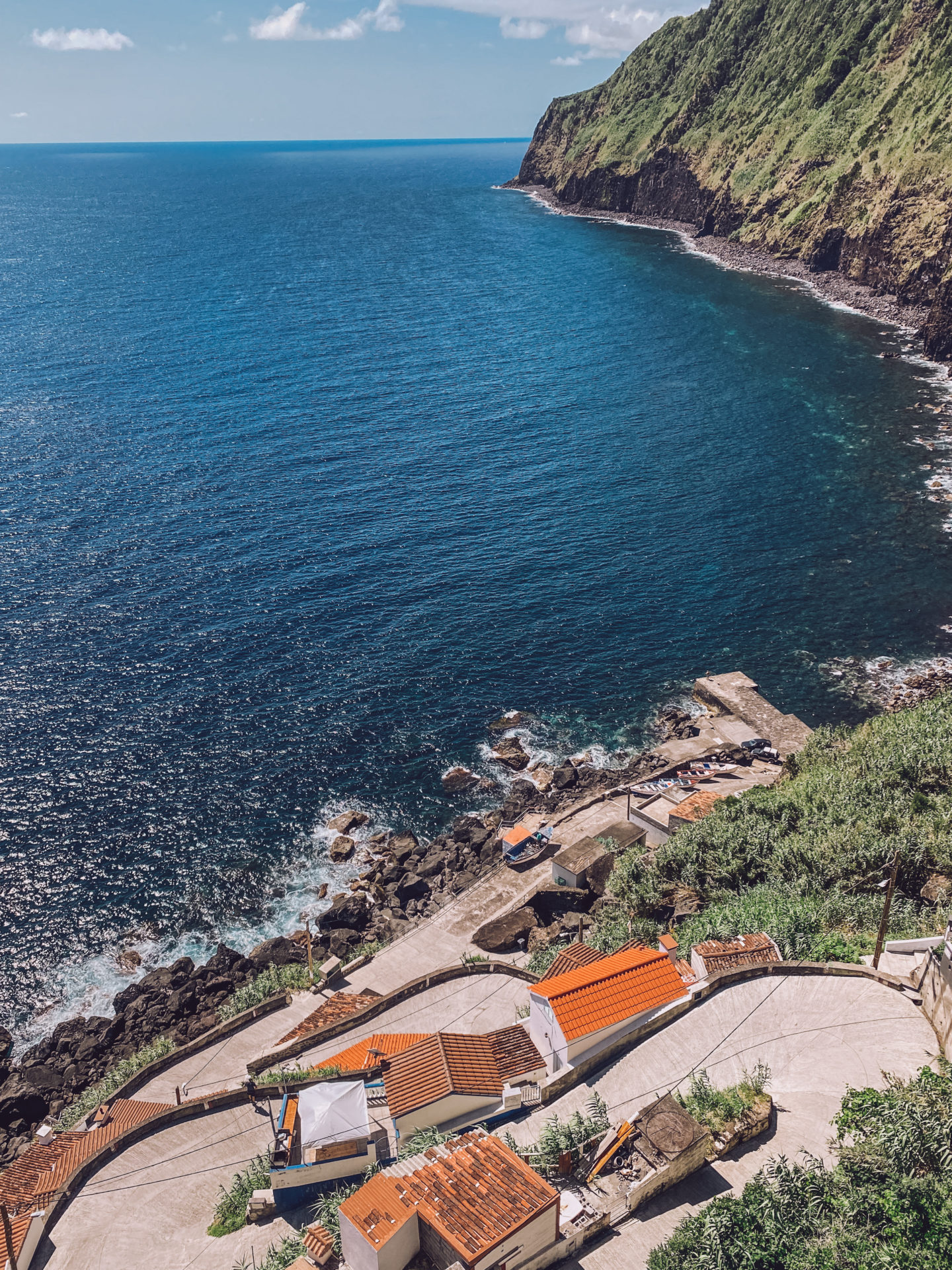 Day 5
We ate breakfast at our resort, packed up and headed to the next destination –> Sete Cidades. We stopped in Ponta Delgado at Parque Atlantico to pick up groceries and diapers (Wells Pharmacy + Continente). It can be difficult to find grocery stores that have what you may need throughout the island so I suggest stopping here first since this is where you will fly in. We arrived at our Airbnb in Sete Cidades.
Day 6
We woke up early to hike to Miradouro Boca do Inferno (absolutely amazing view) which was about a 20-30 minute walk. It gets very crowded here so I suggest setting out early too if possible. You park in a lot and walk across the street to the paved path that leads to this famous view point. There are MANY hikes you can do from here as well.
We walked back to where the car was parked and decided to do the trail that was in that parking lot which had some amazing views, hiking within the clouds. This was a little more dangerous with kids so I suggest hiking packs or holding hands through lots of it.
Day 7-10
We packed up and headed to Santa Barbara Resort which was a 45 minute drive. We stopped at Continente on the way to pick up more groceries. This resort is absolutely stunning and had a beautiful pool that the kids loved, option for surfing lessons right outside the resort on the way down to the beach, a hot tub on our patio + a gym. The set up of our hotel room was amazing. We had the two bedroom, two bathroom hotel room and the set up was perfect with kids. We grabbed lunch at the pool and then dinner right at the resort. Many of our meals were eaten at the resort since it was easy and delicious. This was the end of the trip where we relaxed more and didn't do much venturing around. We made a trip to Central Pharmacy (5 min away) for rapid COVID testing for our trip back home. We also ventured out to Frade Viewpoint which is next to the natural swimming pools which is really cool to see in Ribeiria Grande – Maia. For dinner, we made reservations at Quinta dos Acores which has a really cool playground and a walking area as well.
I highly recommend doing the surf lessons at the Santa Barbara Surf School. You can walk right to the school from the resort and the children's instructor is AWESOME. Our two older girls did a few lessons with him and they had a blast. The sandbars go way out at this beach and depending on the time of day, you can walk way out there and still be standing so it was a great place to learn!
While at this resort I also recommend heading to Restaurante Faria which is where all the locals go and we got this tip from a local we met at the resort. They catch fresh fish that day and serve it and it's delicious.
On Day 10 we packed up and stayed in Ponta Delgado overnight to fly out the next day. We stayed at this Airbnb and it was beautiful. The Airbnb also had a really cool book and map that included all of the owner's favorite spots on the island. We spent the afternoon in downtown Ponta Delgado and ate lunch at Casa da Rosa and sat outside and people watched. It was delicious! They have awesome toast options and great acai bowls. We really wanted to stop in at Louvre Michaelense but it was closed on Mondays. We also visited the Pineapple Plantation which wasn't all that exciting.
That's it! I hope that I didn't forget to include anything and if you have any questions, please let me know!