Becoming a mother means a lot of self sacrifice and one way I have found to make myself feel like a million bucks is building a post partum capsule wardrobe. I try to leave 10 minutes every morning for a quick shower and makeup before getting dressed for the day. Whenever I do this, my day always flows a lot smoother. This post will tell you about everything from the best high waisted denim for that post partum pooch (you gotta rock it mama) to the best draping cardigan to wear at home or out with the kids! The items I feature here are ones that are near and dear to my heart and ones that complete my own wardrobe at home! This is more of a fall/winter/spring capsule wardrobe. I will be creating another one for warmer months as well!
Current stats to help with sizing:
Height/Weight: 5'5 & 126 (some of the items I bought directly after post partum and I give my average weight and sizing within those items)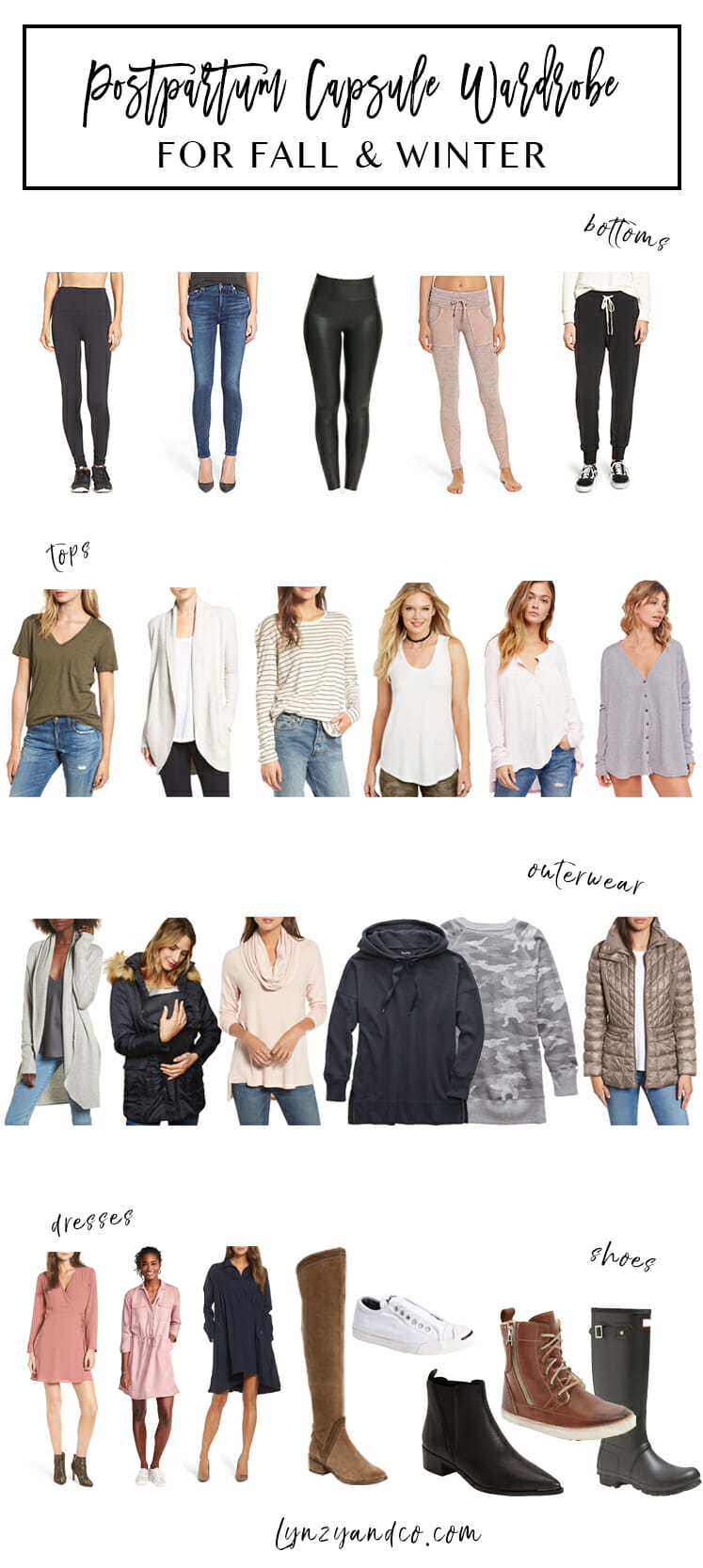 POST PARTUM CAPSULE WARDROBE
Pants
1.) Zella High Waist Live-In Legging Hands down, favorite leggings ever. I also own the mid rise pair and I've had them for almost 6 years – even wore them while I was pregnant! I love the high rise for post partum though! I would size down one for a good tight fit!
2.) Citizens of Humanity Sculpt These get my vote for the best post partum denim EVER. I get that they are an investment piece so I will also mention my runner ups that are under $100 below! These not only sculpt your legs perfectly, but they are also high rise and they keep everything nice & tight. They look killer with a basic white tee 😉
Additional sizes available here if sold out above!
Runner UPs: You all know how much I love this pair of high rise Levi's & this pair of denim from Old Navy! The denim from Old Navy is a great price point for the "in between" denim that you need after birth when you don't fit back into your old jeans but your maternity jeans are a bit loose! I wore a size 4 at 138 pounds post partum!
Seen below: the high rise levis mentioned above, in size 27!
3.) Faux Leather Legging You all know how much I raved about these during holiday season but they can be worn anytime (except the dead of summer because hellooooo – heat stroke)! They look amazing with anything. Dressed up with a sweater or tunic and heels or dressed down with a chic sweatshirt and sneaks! They are a mama's dream and great for date nights & girls night out!
4.) Classic Joggers I recently obtained these beauties in my Trunk Club and HOLY SMOKES, I am in love! They are so soft against my legs and they are so cute on! I don't know what it is about joggers but it's hard to find just the right pair! I am wearing size small.
RUNNER UP: I love these from J.Crew Factory that I just bought last week. SO comfortable!
5.) FP Kyoto Leggings These leggings are made with quality material – I love them so much! They have deep pockets in front too which are great! Run TTS
I also wore these leggings while pregnant as well, the waistband is SO comfortable.
TOPS
Cotton Tee // A basic that never goes out of style. I size up one for a loose fit that I can easily tuck into sweatpants or denim! Less than $20 and I have a bunch of colors!
Cozy Cardigan // My number one cardigan of all time! If I could only live in one cardigan forever, this one would be it! I own it in two different colors! Wearing size small in the image below!
Basic Long Sleeve // I have this tee in the white with black stripe and I wear it WITH EVERYTHING – so affordable too! First image is the tee alone with a cardigan and the second is the tee layered with this sweatshirt! I am wearing a size XS – it runs big!
Perfect Tank for Under Cardigans // This tank top is GOLD – runs TTS
Nursing Friendly Thermal Tops // I have this one in THREE colors because it is THAT good! I recently got this other one in white and love the way that it drapes!
DRESSES
Wrap Dress
// This dress is less than $50 and comes in a ton of colors and prints and is perfect for breastfeeding!
Drape Shirtdress
// I got this dress a few weeks ago and I still need to try this on for you in my stories! I will do it today or tomorrow – it's amazing and nursing friendly too!
Casual Utility Dress
// Just got this one recently too! I will do a try on for this in my stories with the other dress above. It's S affordable, breastfeeding friendly and adorable! Runs big, I am wearing size small but could do XS too!
SWEATERS / COATS
Maternity/Baby Carrier Coat // This coat is GREAT for baby wearing and while pregnant! Wearing size small below! Currently 30% off!
Basic Everyday Coat // Love this jacket for every day wear!
Sweatshirt // This goes PERFECT with leggings and it's so comfy & affordable (shown above layered with striped tee) & this one here has zippers on the side too!
Cozy Tunic // Great for breastfeeding and the coziest fabric!
SHOES
Sneaker Boots // if you only want to buy one pair of shoes for fall/winter, these should be it. I love them so much and wear them every day! I am wearing a size 40 in Bark Leather!
Booties // These are my favorite booties for dressing up an outfit. I love the pointed toe, they're high quality and they're so comfortable.
Converse // Classic sneaks that can be worn year round – a must have for every mama!
OTK boots // These boots are amazing quality and currently on sale! I rave about these a lot and they look great with pants and dresses!
Hunter Boots // If you don't own a pair yet, what are you waiting for?!? 😉