All of my dreams came through during this bathroom renovation. I have been dreaming up the ways I would renovate our bathrooms since we moved in almost three years ago. This is the first of the three bathrooms and seeing it all come together has been surreal for me. Our home is absolutely beautiful but it's a constant work in progress. A "fixer upper" that we have put a lot of time and effort into and something that is a true joy for me! I created an inspirational board for this bathroom awhile back and seeing it finished makes me SO happy.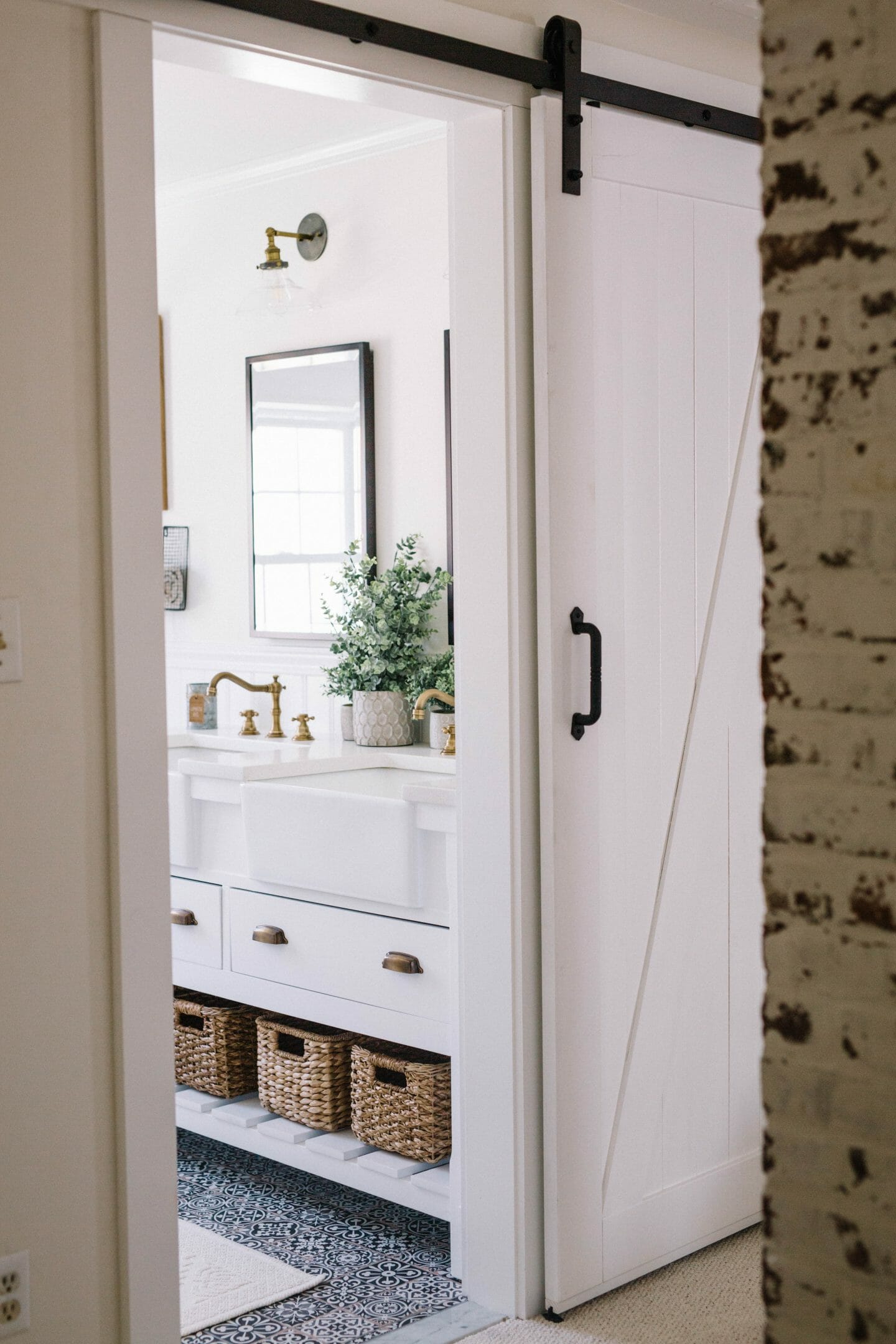 Farmhouse Bathroom Makeover
I bought this flooring 2.5 years ago because I fell completely in love with it and knew I wanted it in my bathroom. Little did I know that I didn't measure properly and I was ONE BOX short. All the stars aligned and I was able to find it IN STOCK when we were renovating (cue the beads of sweat). Each tile is actually made up of 12 smaller tile squares so it looks like there are a ton of smaller squares but they're actually easier to install since they're much bigger than you think. The flooring is actually on sale right now for those of you that have been wanting to purchase it!
BEFORE IMAGES…..
I had replaced this wallpaper with the ugly striped wallpaper that was there previously. My favorites were the blue toilet (we had removed it during this bathroom refresh) and blue tub! Sorry for the image quality here since these are from my iPhone and the lighting was EH.
See more previous images here!
A sliding barn door was a necessity since this bathroom was small to begin with and with a door opening inwards, it made it that much smaller. We decided to remove that door and put up a sliding door to save space and I love it!
Barn door handle // Barn door lock
The barn door I originally wanted wasn't in stock at the time so my contractor picked this one up instead and painted it white.
One of you lovely souls messaged me while I was heart broken about the mirrors I wanted (they were out of stock) and told me about these amazing medicine cabinets. It was a blessing in disguise because I LOVE these. We don't have a closet in this bathroom and we desperately needed the extra space for toiletries (especially as the kids get older).
The faucets are actually a score from eBay and I believe that they still have them in stock here. They are gorgeous and great quality for the price (I was definitely skeptical).
My favorite part (apart from the floors) are the huge farmhouse sinks in this bathroom vanity! I also love the open bottom for baskets. I also think the open bottom makes the bathroom look a bit bigger because it's not squared off. You can find the baskets here. We changed out the original pull handles to these gorgeous antique brass ones!
The faux plants are from Home Goods a few years ago! I am pretty sure they still have similar ones now.
We used a simple flat farmhouse trim for the window and I LOVE it. We also switched out the window and it's the first window that we've been able to replace and it is GLORIOUS. If you have ever had to deal with old, broken windows – you'll know what I am talking about 😉
Basket was scooped up at HomeGoods and I put a towel inside of it for the bath toys. Since they are always wet when they come out, I put a towel in there to dry them off.
I had no idea what I wanted to put above the toilet and it may eventually change but I loved this wire basket rack to hold the hand towels. The art was super cheap and I love that it had a wooden frame and I found it at Target but I am leaning towards replacing it with this one here!
I always get so many questions about the shower hardware we used and you can find it here! As for the shower handle, we bought that separate here!
It took me painstakingly long to choose the right bathtub and I am SO happy with our choice. It's really deep and it's great for the kids to take a bath. I love that it has a recessed panel out front, adds a little character to it!
This space is where the ridiculously small closet used to be. It was so impractical that we just said the hell with it and removed it for more space. I put these simple IKEA hooks here for towels and I love how clean and simple this corner is, it makes me happy.
Paint colors used:
Swiss Coffee by Benjamin Moore for walls
Trim is Simply White by Benjamin Moore
If you have any other questions, please let me know in the comments below! 🙂