I get so many messages asking about how to style faux leather leggings so I put together this post on 5 different ways you can style them! Once I started, I even surprised myself because I could have kept going with about 10 other outfits but I will save that for another post in the fall once the weather cools off! Once I tried on these amazing faux leather leggings during the Nordstrom Anniversary Sale last year, I knew that they needed to come home with me. I had heard amazing reviews on how they compress amazingly, instantly slim and their comfort level but I was still blown away when I actually tried them on. The best thing about them is their versatility. From completing an athleisure outfit to a sexy date night outfit, these leggings really can be worn with anything! So let's get started with styling! 🙂
How to Style Faux Leather Leggings 5 Ways
Grab them here! I am wearing size small, they run slightly small!
OUTFIT 1 / OVERSIZED SWEATER & BOOTIES

I wore this look a LOT last year. You can also switch this up and wear some OTK black boots which looks really cute too! My sweater is from H&M last season and I am sure they will have a ton of amazing one this year too – just be careful because occasionally they can be SUPER itchy. I linked up my FAVORITE cashmere pick from the Nordstrom sale this year by Vince and it is STUNNING if you are in the market to splurge on some cashmere 😉
OUTFIT 2 / CONVERSE, BASIC T, & ZIP HOODIE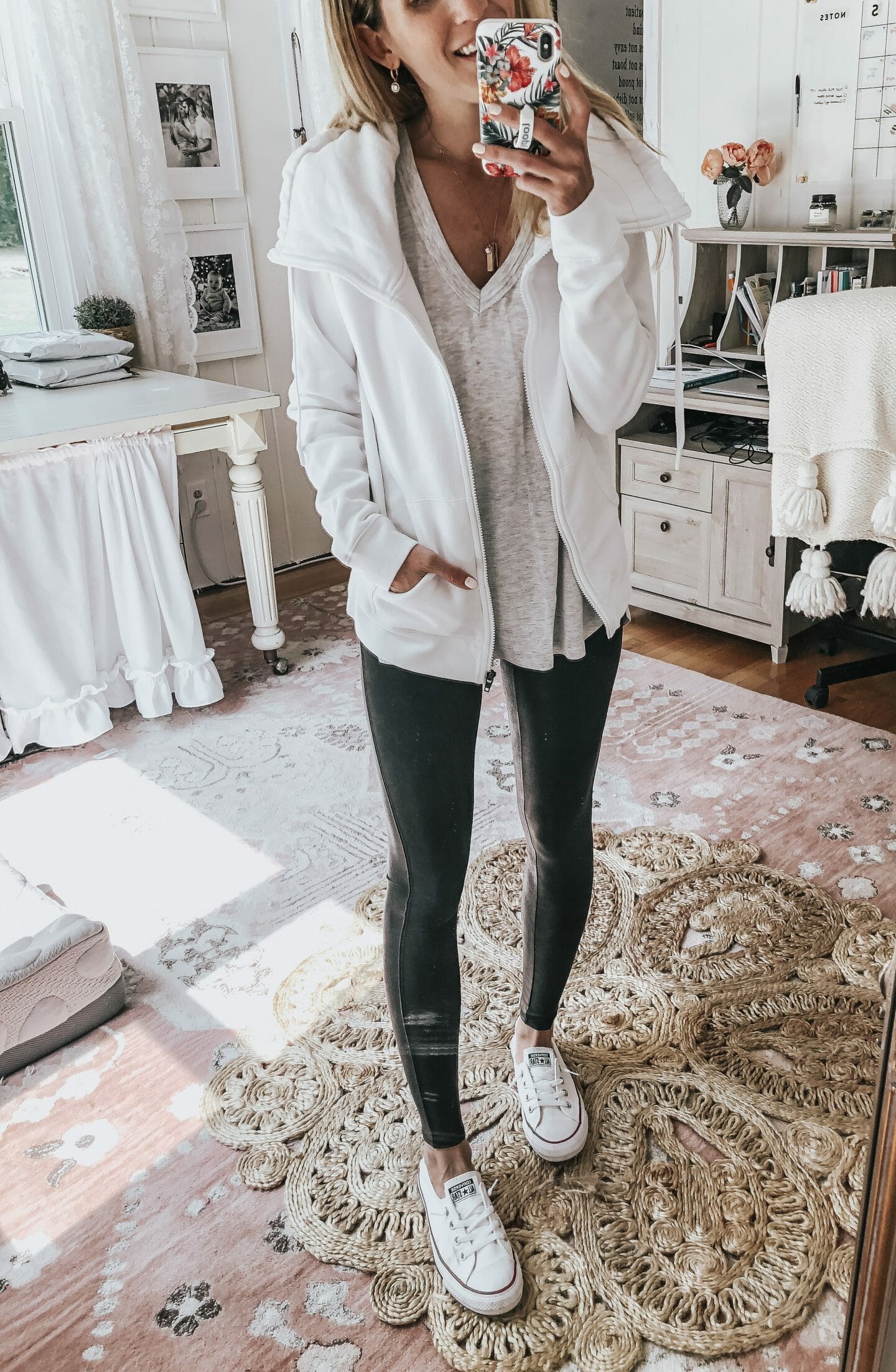 Basic look for running errands but still wanting to look put together! This collared sweatshirt is one of my new favorite additions to my wardrobe because it's great for nursing and goes with everything! You can also knot the shirt (as seen below)
OUTFIT 3 / BASIC LAYERED SWEATSHIRT & CONVERSE

One of the best sellers from last year is BACK – slightly different but it's back and one of my favorite sweatshirts. The color has me wishing for fall and goes with everything. I love layering it with a striped shirt underneath!
OUTFIT 4 / SIMPLE TOP, OVERSIZED SCARF & HEELS

One of the cutest outfits for date night and SO simple. This black basic tee is SO flattering on every body and it looks awesome with a baby bump! It runs big so size down if you do not have a bump! I paired it with a simple blush pink oversized scarf and heels! Any scarf and heels would do!
OUTFIT 5 / TAN CARDIGAN & LEOPARD MULES

You will never get bored styling a tan cardigan like this! So many different ways to wear it and it looks awesome with leopard. I go these mules last year and LOVE them so much. They are actually still available and they're on crazy sale because it's summer! Sizes are selling quickly though!
Tell me in the comments below how you wear your faux leather leggings! Also tell me if you want me to do another one of these style posts in the fall! I can think of many more ways to style these for you guys!