Rustic Woodland Nursery
Another nursery for your eyes to enjoy this morning! This one has a rustic woodland theme and was designed by mom, Shannon Morscheck!
What was your inspiration for this nursery design?
My husband is an arborist and I wanted to honor that aspect of our lives.
Describe the process of putting the nursery together. Did you renovate/paint beforehand? Were there any DIY projects involved?
We started by creating the wooden wall, which was to be a focal point of the room. After my husband finished building it, I started piecing the room together. I believe in taking your time and finding the right pieces, and when you see the right one, you just know; like the very unique mantle in Franklin's nursery. It was love at first sight! My husband also made the floating shelves, as well as the wooden chevron wall hanging. I feel very fortunate to have a handy husband!
Wooden wall- a DIY project done by my husband, tutorial
here
Metal letter-
Hobby Lobby
White wooden chevron wall hanging- DIY
Chair-Craigslist
Side table-Target (similar
here
)
Bear pillow- Target (
similar
)
Pouf- Target
Lamp-IKEA
Curtain rod- My great-grandpa's antique pole pruner (used for pruning trees)
Target Bench- Custom made from California
Dresser-Craft show
Gold knobs-Target
Chevron toy/diaper boxes- Homegoods
Moose & Mushroom- Homegoods
Mantle- Local consignment store
Trees- Craft fair
Light fixture- Ikea
Head here for other featured nurseries!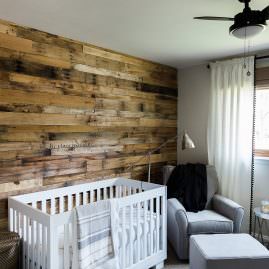 ————–> Nod to Nautical Nursery
———> Gender Neutral Starry Knight Nursery
—-> Gender Neutral Calming Nursery