Beyond excited to show you this neutral nursery inspired by music today! Emily created this beautiful space for her baby boy and she's also a Physician Assistant! She works as a PA in ortho surgery and recently sent me this beautiful nursery to be featured. I am just in love with the coziness of this space and the beautiful touches throughout. I hope you enjoy this one!
Photography is by Southern Shutter Photography
Scroll all the way to the bottom for more nursery inspiration 🙂
Neutral Nursery Inspired by Music
What inspired you to create this space?
Music has been an essential part of the relationship between my husband and I from the beginning twelve years ago. Our first vacation together was a road trip across the country to a concert and we've made countless trips together solely based upon music since then. My husband is a skilled musician, who can play nearly every single instrument by ear. Our home is constantly filled with music, whether it be from him practicing or from a record playing on our gramophone. When it became time to decorate Ezra's nursery, we wanted to avoid an over the top cheesy theme, but we knew we wanted to subtly incorporate music and instruments. We created a cozy space filled with clean, calming tones, and we brightened up the room with lots of white and light wood accents. I created a gallery wall of small instruments and have musical prints integrated throughout; even the vintage ribbons on our curtains are printed with sheet music. The wall paint color is sea glass by Sherwin Williams, which I love because depending on the lighting and the time of day it can often appear either blue, green or grey. The abundance of llamas was never intentionally a part of the decor plan, but we spent our babymoon in the Patagonia region of Chile & Argentina, which introduced us to our love for llamas. I absolutely cannot wait to tell our boy about his first international family vacation and the story behind why all these llamas fill his room. I desperately hope that this room calms and soothes our baby boy, but also encourages him to develop a passion for music.
Did you do any DIY's for this space? How did you do it?
We did quite a few DIY projects for this space. My mom turned a closet of shelves into a closet with two hanging racks and she repainted an antique day bed frame and two chest of drawers (white from a former hot pink, harder than it sounds). We opted to incorporate a day bed into the nursery rather than using a changing table. With the help of my mom and my grandmother, we re-purposed our old curtain panels from Josh and my first apartment into nursery curtains. They were made from painter's drop cloth which was conveniently a wonderful texture and light color that blended right into the space. They were also accidentally perfect because the original bows attached to them were covered with hand stamped sheet music. My personal favorite DIY project was the xylophone for the musical instrument gallery wall. I used leftover paint samples and craft paint to make it match our color scheme.
Room Sources
Head here for other featured nurseries!
Natural, Earth Inspired Nursery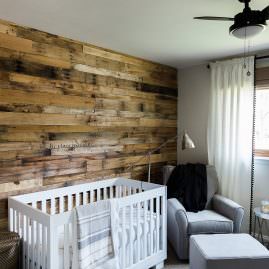 Gender Neutral Starry Knight Nursery
Gender Neutral Calming Nursery
Neutral Hamptons Inspired Nursery
Rustic Woodland Nursery
Classic & Timeless Baby Boy Nursery